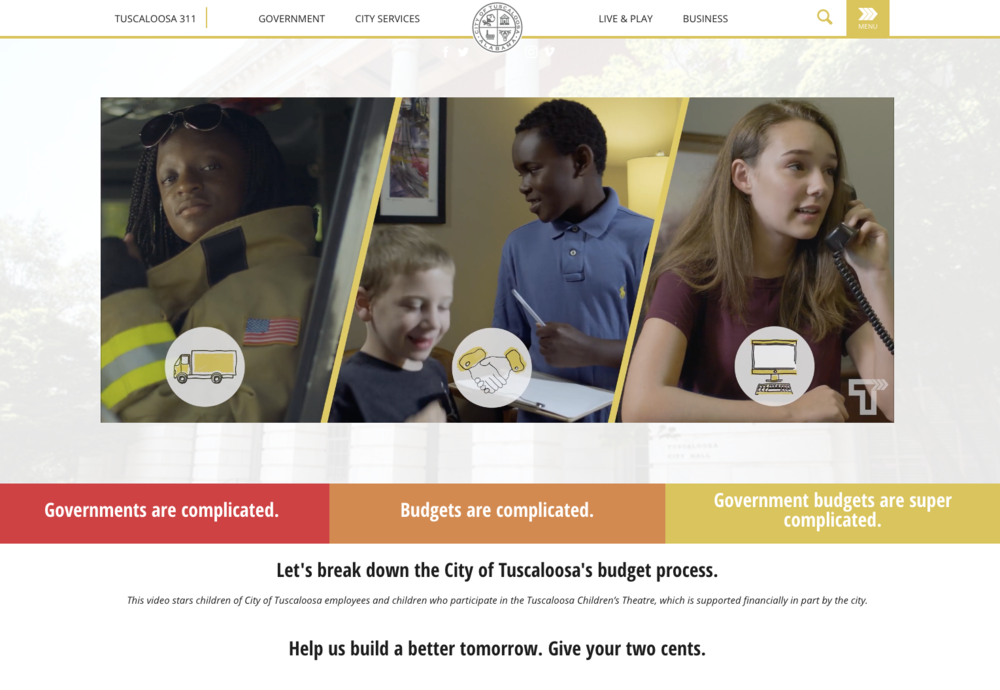 City of Tuscaloosa Provides More Options for Citizens to Participate in Budget Planning Process
August 15, 2018
To engage citizens in the budget planning process, the City of Tuscaloosa invites community members to share their priorities online at Tuscaloosa.com/towardtomorrow.
The fiscal year 2019 budget planning process, named "Toward Tomorrow," will result in a new budget that serves as a blueprint to enhance the quality of life for all citizens. The City broke down the process in a video starring employees' children and performers from Tuscaloosa Children's Theatre, which is supported financially in part by the City.
Comments will be taken through the Toward Tomorrow site until Saturday, Sept. 15.
Mayor Walt Maddox will present his budget recommendations for the next year on Tuesday, Aug. 21 at 6 p.m. in the Council Chambers at City Hall. The presentation will be livestreamed from the City's Facebook page and broadcast live on TV (Comcast Channel 20 or U-Verse Channel 99).
Visit Tuscaloosa.com/calendar for a schedule of the upcoming budget hearings.