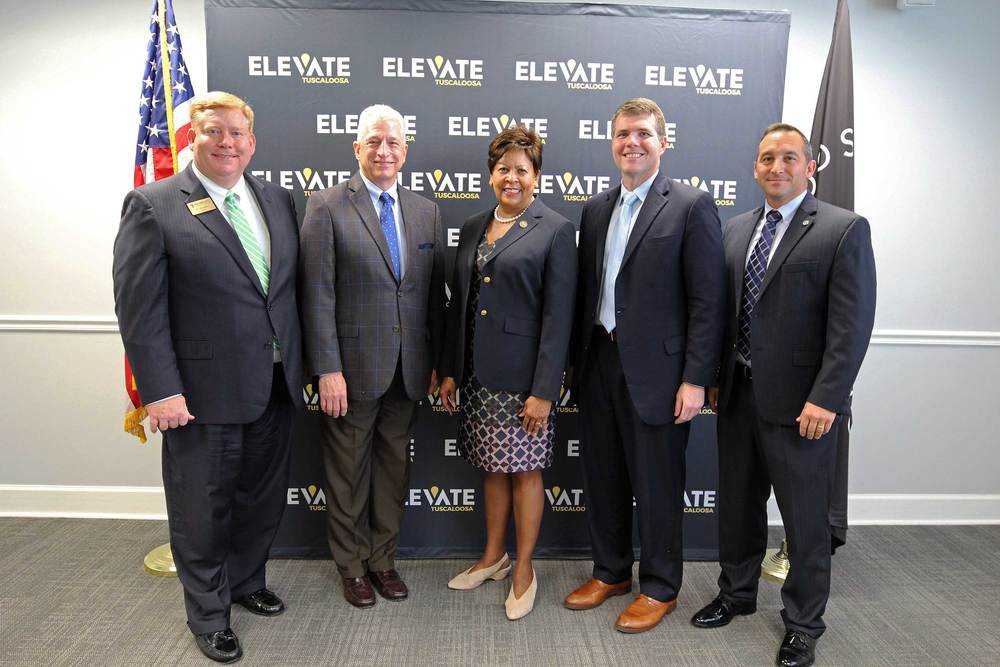 Mayor Announces Elevate Dual Enrollment Scholarship Program
January 13, 2020
Tuscaloosa City Schools' high school students will soon benefit from a major educational initiative to make college more affordable as part of Elevate Tuscaloosa, the city's signature plan to elevate education, experience and the economy. Mayor Walt Maddox announced the launch of Elevate Dual Enrollment college scholarships on Monday, Jan. 13, noting that the scholarships will become available starting with the Class of 2021.
"I want every child in the City of Tuscaloosa to have an opportunity, if they so desire, for a college education," said Maddox. "We couldn't do this without our higher education community."
The mayor and TCS superintendent Dr. Mike Daria were joined by Dr. Kevin Whitaker, University of Alabama Executive Vice President and Provost, Dr. Bill Ashley, Shelton State Community College President, and Dr. Cynthia Warrick, Stillman College President, for the announcement.
During their senior year, TCS students may take up to six fully-funded hours of college credit at either The University of Alabama, Shelton State Community College or Stillman College.
To qualify, students must:
Attend a TCS high school at least one year prior to taking courses as part of the ELEVATE Dual Enrollment Scholarship program;

Live in the Tuscaloosa City Schools' residential attendance zones;

Be classified as a senior; and

Meet institutions' minimum grade point average requirements.
TCS administrators have worked with all three institutions of higher learning to identify core courses that will apply to any major. These courses will be fully funded--to include books and fees-- as part of the ELEVATE Dual Enrollment Scholarship program.
For some families, the rising costs of higher education may mean college is out of reach.
Thanks to Elevate, taking courses will become a reality for students starting this summer.
Daria said that the scholarships underscore the work being done as part of the system's strategic plan to provide access and equity for students.
"This support from the City is a shining example of removing access barriers," said Daria. "This allows us to do work that we were only able to do in pieces before, but now will be open to all students. This initiative is bringing about an unprecedented partnership between Stillman, the University and Shelton State. This is a win for everyone. This is a win for our students. This is a win for the community, and we cannot thank everyone enough."