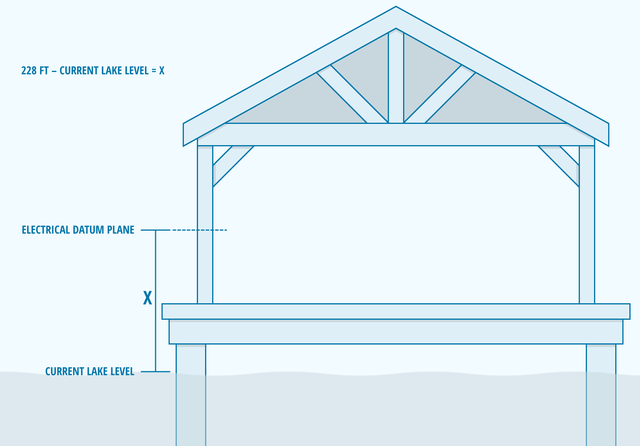 How to Mark the Electrical Datum Plane at Your Dock on Lake Tuscaloosa
Determining the location of the electrical datum plane is simple. The method presented below is applicable for the entire extent of Lake Tuscaloosa. You will need access to the internet and a tape measure (or similar).
Follow these steps:
Scroll to the graph at the bottom titled "Lake or reservoir water surface elevation above NGVD 1929, feet." The current lake level and the date and time it was measured is presented in the subtitle.

Perform this calculation: 228 – current lake level (obtained in step 2).

At your dock, start at the lake water surface and measure vertically the distance you calculated in step 3 (e.g., 69 feet). Mark this level. This level of elevation is the electrical datum plane at your dock.
Note: Make sure you complete step 4 at the same time you complete steps 2 and 3. The lake level changes over time, and you should use the current reading of the lake level when you make the measurement at your dock.