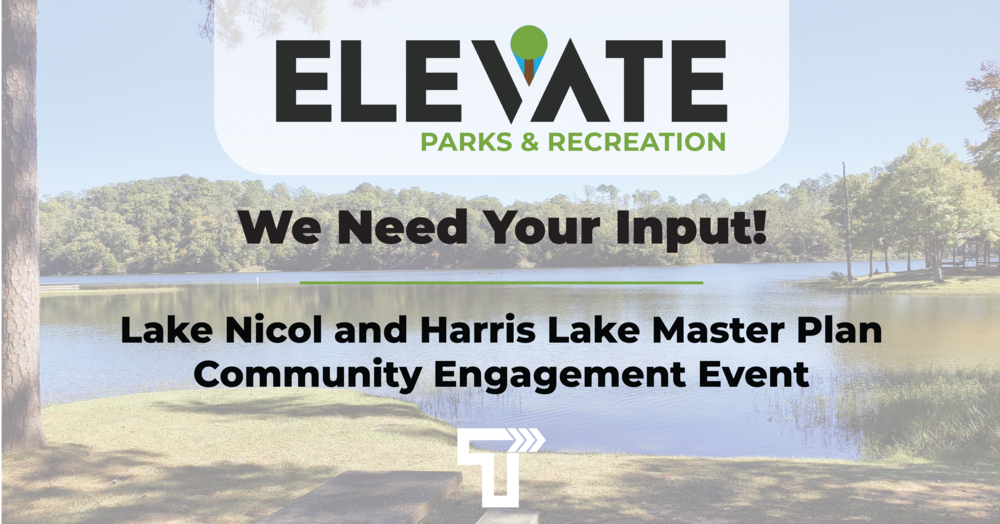 City of Tuscaloosa to Hold Community Engagement Event on Lake Nicol and Harris Lake Master Plan
August 10, 2022
As part of its Elevate Tuscaloosa initiative, the City of Tuscaloosa is hosting a community engagement event to seek public feedback for improvements to Lake Nicol and Harris Lake. The come-and-go event will be held on August 22 from 3 p.m. to 6 p.m. at the Phelps Activity Center.
The City has contracted with TTL to create a master plan that will help inform decisions on the lakes for years to come. TTL staff will be on-site to present potential concepts for the lake, and seek feedback and ideas from the public.
"Thanks to Elevate Tuscaloosa, we have the opportunity to expand access to Harris Lake and Lake Nicol and create upgraded spaces for locals and visitors alike to enjoy," shared Mayor Walt Maddox. "This process begins with a master plan envisioning the future of the lakes that will include options for updates and a proposal for phasing in improvements over time."
Community members who are unable to attend the event are invited to share their feedback through the Lake Nicol and Harris Lake master plan survey, available until late August at elevatetuscaloosa.com/lakesurvey.