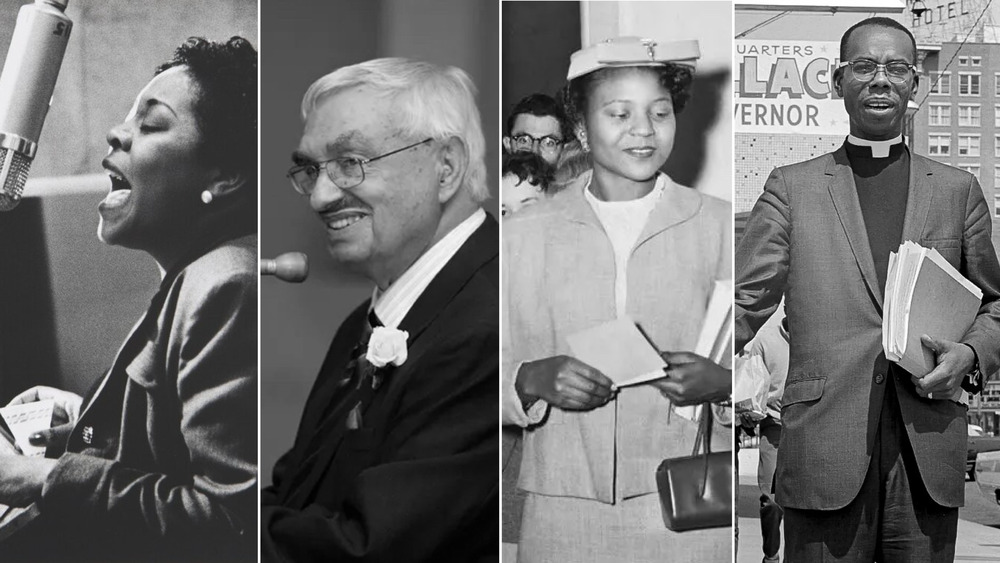 Black History Month in Tuscaloosa
January 31, 2023
Throughout the month of February, the City of Tuscaloosa will highlight a few of the people and places that make up Tuscaloosa's rich Black history – from civil rights, to music, to education and more.
Dr. Cordell Wynn (1927-2010)
Originally from Georgia, Dr. Cordell Wynn moved to Tuscaloosa to assume the presidency of Stillman College in 1982. Dr. Wynn was passionate about equity in education. Before moving to Tuscaloosa, he co-chaired the desegregation plan for Bibb County schools in Georgia. Later, he was appointed by President Lyndon Johnson to a national advisory committee on education and served as a consultant for the desegregation of schools for President Richard Nixon.
Under Wynn's leadership, enrollment and faculty at Stillman College both nearly doubled. The college's annual budget increased from $5.2 million to $14.2 million, and endowments increased from $2 million to $20 million.
Dr. Wynn also worked tirelessly as an advocate and community leader during his time in Tuscaloosa, serving as the chair of the Tuscaloosa Housing Authority board, chair of the Presidents of the College Fund (UNCF), chair of the National Association for Equal Opportunity in Education, member of the Alabama Ethics Commission, and member of the Board of Trustees for the University of Alabama.
He was the first Black Chairman of the Chamber of Commerce of West Alabama, and the first Black recipient of the Citizen of the Year Award issued by the Tuscaloosa Civitans. He was inducted into the Tuscaloosa County Civic Hall of Fame in 2002, and in 2007, Tuscaloosa Mayor Walt Maddox declared February 3 as Dr. Cordell Wynn Day in Tuscaloosa.
Autherine Lucy Foster (1929 – 2022)
Autherine Lucy grew up as the youngest of 10 siblings in a farming family in Shiloh, Alabama, and spent her young life in pursuit of the best possible education. After graduating from the historically Black Miles College with a bachelor's degree in English, she began to seek additional educational opportunities.
In 1952, Lucy applied and was accepted to the University of Alabama. Upon learning that Lucy was Black, the still-segregated University rescinded her acceptance. After a three-year legal battle, during which the Supreme Court issued the landmark ruling in the Brown vs. Board of Education case, Lucy was finally re-admitted to the University of Alabama.
On February 3, 1956, Lucy stepped foot on campus as the first Black student to attend the University of Alabama. By her third day on campus, protests broke out among students and outsiders, and Lucy was suspended and later expelled.
Lucy married Hugh Lawrence Foster in 1956 and spent the next 30 years working as a teacher and raising a family in Texas. In 1991, Lucy Foster returned to the University of Alabama and earned her master's degree in elementary education, graduating alongside her daughter, Grazia Foster.
Shortly before she died in 2022, The University of Alabama renamed the college of education building Autherine Lucy Hall in honor of her courageous actions that paved the way for a more equitable higher education system.
Reverend T.Y. Rogers, Jr. (1935-1971)
Reverend T.Y. Rogers, Jr. was a leader in the civil rights movement in Tuscaloosa and surrounding communities. He served as the pastor of the First African Baptist Church from 1964 until his death in 1971.
After completing seminary school, Rogers served as a pastor in Philadelphia before returning to the south to serve as the assistant pastor to Rev. Dr. Martin Luther King, Jr. at Dexter Avenue Baptist Church in Montgomery, Alabama. In 1963, Dr. King recommended Rogers for the pastor's post at First African Baptist Church, and in 1964, gave a sermon at the church during Rogers' installation. This service was captured in a rare photograph and is the only known picture of Dr. King in Tuscaloosa.
Like Dr. King, Rogers spent his life in pursuit of equity, mirroring King's steadfast belief in non-violent activism and advocacy for change. Throughout his life, Rogers led many successful boycotts and protests, the most notable of which has come to be known as "Bloody Tuesday."
He also organized the Tuscaloosa Citizens for Action Committee, which served as the base for planning and directing all civil rights activities in Tuscaloosa, and later became an affiliate of the Southern Christian Leadership Conference.
In honor of his life, in 1985, part of Tuscaloosa's 27th Avenue, the street on which the First African Baptist Church sits, was renamed T. Y. Rogers Ave. He was inducted posthumously into the Tuscaloosa County Civic Hall of Fame in 2005.
Dinah Washington (1924 – 1963)
Tuscaloosa native jazz singer and pianist known as the "Queen of the Blues," Dinah Washington, was born Ruth Lee Jones in 1924. Her family left Alabama for the north when she was three years old, and she entered the world of music in Chicago.
Her career skyrocketed after legendary jazz vibraphonist Lionel Hampton hired Washington to perform with his band from 1943 to 1946. Between 1949 and 1955, she released 27 Billboard Top 10 hits, and in 1959, she won a Grammy Award for her song "What a Difference A Day Makes."
Washington died in 1963 and was inducted posthumously into the Alabama Jazz Hall of Fame in 1986, and to the Rock and Roll Hall of Fame in 1993.
In 2009, the City of Tuscaloosa honored Washington with the unveiling of Dinah Washington Avenue. In 2012, the City secured a $1.5 million loan from the U.S. Department of Housing and Urban Development to renovate the historic Spiller Building in downtown Tuscaloosa. In partnership with the Arts Council, the Dinah Washington Cultural Arts Center was opened on Washington's birthday in 2013. Today, the center serves as a hub for the arts in Tuscaloosa and houses two art galleries featuring rotating exhibits.