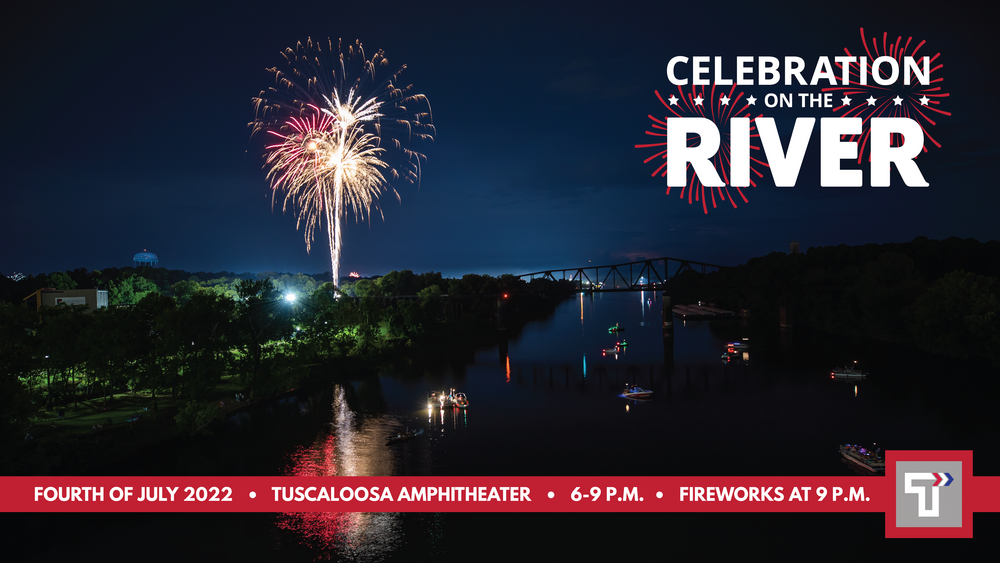 City of Tuscaloosa to Host July 4th Celebration on the River
June 16, 2022
The City of Tuscaloosa will host a Fourth of July Celebration on the River on Monday, July 4, from 6 to 9 p.m. at the Tuscaloosa Amphitheater. This free, family-friendly event is open to the public and will include live music, kids' activities, fireworks and more.
The kids' zone will be open inside the Amphitheater at 6 p.m. with games and activities for all ages. DJ Tank will be performing from 6-7:50 p.m. The Tuscaloosa Symphony Orchestra will perform around 7:55 p.m. Fireworks will begin at 9 p.m. after brief remarks from Mayor Walt Maddox.
"After a successful return of Celebration on the River last year, I am thrilled to bring back the celebration of such an important day," Mayor Maddox says.
Attendees are encouraged to park in the free parking deck located on 23rd Ave between 6th and 7th St, just behind City Hall, and take a shuttle or walk to the Amphitheater. Accessible parking will be available in the Amphitheater box office parking lot.
The Amphitheater's clear bag policy will be in effect for this event. To receive text alerts for weather and event information the day of the event, guests can text "TUSC4TH" to 888-777. To learn more, please visit Tuscaloosa.com/COTR.