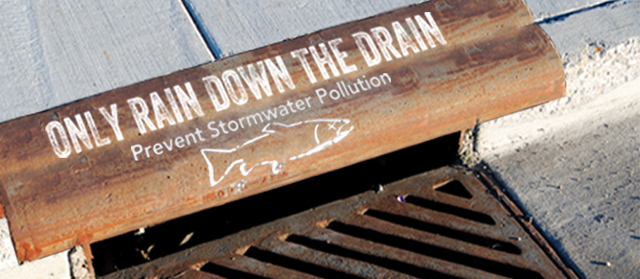 What is Stormwater?
Stormwater is rainwater or melted snow that runs off streets, lawns and other sites.
When it rains, rain drops land and flow down roofs, gutters, grass, and roads.
Stormwater and Pollution
During heavy rain events, the rain drops flow together (creating stormwater flow) and pick up pesticides, fertilizer, oil and grease, pet waste, gravel and sediment, litter and other dissolved chemicals as it flows across grass and/or pavement. If flow is slowed, the water is absorbed into soil and can filter and replenish groundwater. In a heavy rain event, or when stormwater flow is high and not absorbed, the excess water flows into a storm drain and a network of pipes that lead to a ditch, stream, river, or lake.
To protect local and natural resources, the City of Tuscaloosa, construction companies, industries, and others, use stormwater controls, known as best management practices (BMPs). These BMPs filter out pollutants and/or prevent pollution by controlling it at its source.
All storm drains lead to local bodies of water. Stormwater is not treated at water treatment plants.
Stormwater Pollution Prevention - How Can You Help?
Report spills or erosion problems immediately.
Establish grass on bare areas to prevent erosion.
Wash your car on the lawn instead of the driveway.
Recycle used oil and antifreeze.
Sweep your driveway instead of pressure washing.
Maintain septic tanks properly.
Don't litter
---
City of Tuscaloosa Stormwater Program
2017-2018 Stormwater Phase II MS4 Annual ReportThe City of Tuscaloosa has submitted the required Stormwater Phase II MS4 Annual Report for the reporting period 2017-2018 to the Alabama Department of Environmental Management. This report highlights how the City of Tuscaloosa is addressing the six minimum control measures, as required, for the stormwater program. Please click here to view the report. Any comments or feedback on the annual report can be sent to jdyates@tuscaloosa.com.
Nationally Recognized Stormwater Management Program
The City of Tuscaloosa's Stormwater Management Program was recently awarded a "Silver Level" designation for Innovation and Program Management by the Water Environment Federation (WEF) at the annual WEFTEC conference in Chicago. The City of Tuscaloosa was honored for its outstanding Stormwater Management Program and commitment to installing green infrastructure. Developed through a cooperative agreement with the U.S. Environmental Protection Agency (EPA), the award recognizes high-performing regulated Municipal Separate Storm Sewer Systems (MS4s) and inspires them to exceed requirements through innovative and cost-effective approaches.
Applications were reviewed and winners selected by a diverse steering committee that included members and volunteers from WEF's stormwater and watershed national committees, as well as representatives from each of the following organizations: the Association of Clean Water Administrators, American Rivers, the American Society of Civil Engineers, the American Society of Landscape Architects, the National Association of Clean Water Agencies, the National Association of Flood and Stormwater Management Agencies and the Water Environment Research Foundation.
Click here to see the letter announcing the award along with the award certificate.
---